Below is the summary of the smart cloud video surveillance industrial deployment, with an outlook of its functions, capabilities and applications.
The potential of intelligent video surveillance in industrial applications
According to an Allied Market Research, the industrial segment dominated the global computer vision market in 2020 and is expected to retain its role in the near future. This segment includes vertical domains that integrate computer vision applications in the automotive, consumer electronics, wood and lumber, paper, food and packaging, textiles, metallurgy and engineering sectors.
CV-based systems have been increasingly employed to manage industrial processes, specifically in high-risk areas. Equipment enabled with computer vision and analytical modules handles routine tasks with ease and speed. On top of its process control functions, such equipment helps save lives. These solutions are used to monitor safety practices at hazardous industrial facilities: they check whether employees wear masks, gloves and high visibility vests, and promptly alert management to any violations.
In processes that require ultimate concentration, computer vision solutions scan and recognize employees' faces to analyze their wellbeing. If a system detects dwindling attention (such as signs of drowsiness), it will warn the operator accordingly to minimize the risk of workplace incidents.
CV technologies are also used to automate routine operations in quality control and theft prevention, as well as to detect assembly line forgery or inadequate product handling at the warehouse. Helper systems, or sorters, ease the job for flaw evaluators by finding flawed parts and scrapping them from the assembly line.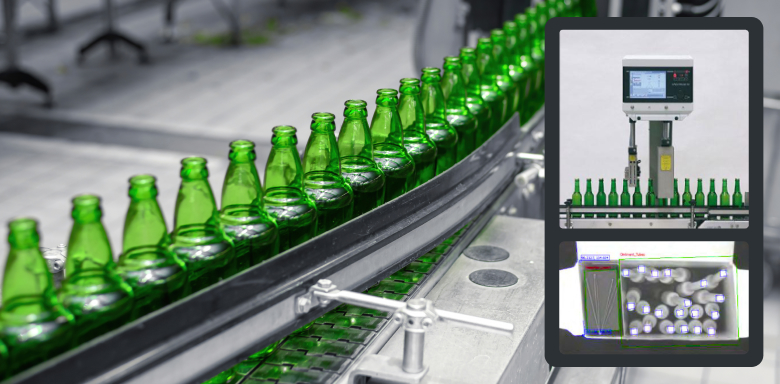 Computer vision solutions enable optimal savings in production by minimizing error and allowing human operators to focus on more sophisticated tasks that artificial intelligence is not geared to address just yet.
An MTS AI solution
MTS AI scrutinizes the best practices and use cases for smart video surveillance and analytics systems in existing industrial applications and conducts its own demand analyses. These steps helped our team engineer a proprietary solution – an AI cloud video surveillance platform.
The platform covers a wide range of manufacturing tasks:
flaw detection,
finished product evaluation and count,
staff behavior and safety compliance monitoring,
quality metrics analysis,
perimeter breach detection,
theft and conflict prevention.
The system permits real-time monitoring of manufacturing processes and timely response to deviations and malpractice.
Pulp and paper mill
One of the largest Pulp and Paper Mill factory in Russia was looking for a way to improve production efficiency and predict paper web rupture on its paper and cardboard machines. Disregard of machine maintenance routine and operator-contributed process violations result in product flaws, such as paper breaks, tail cutter clogging, as well as folds, creases and holes through the paper web.
The factory installed a smart video surveillance system designed by MTS AI to address these issues. The system is built with industrial high-speed illuminated cameras, business process automation software and an ML model trained to recognize product flaws in the video feed. The solution helped the factory predict paper web ruptures on its machines with up to 90% accuracy.
Iron and steel complex
Steelmakers also keep focused on improving their product quality and increasing production output. West-Siberian Metallurgical Plant often has to deal with flaws on billet surfaces when manufacturing structural steel members. These flaws may lead to structural damages, emergency events, injuries and fatal accidents. The plant's engineers control product quality in poorly lit spaces using manual techniques. All of this results in defective products.
MTS AI team proposed a video monitoring solution for key manufacturing stages focusing on billet quality inspection. Heat-resistant surveillance cameras were installed at critical points to meet this objective. A trained video analytics system would scan the billets at full length and on all sides and then transmit data to the operator's display, highlighting the flawed spots. The operator then relied on such data to decide what to do with the billet next. The resulting accuracy of automatic flaw detection was above 85%.
Takeaways
Taking advantage of computer vision and ML-based systems, plants and factories can handle routine manufacturing jobs with more speed and efficiency versus manual practices.
The smart cloud video surveillance platform helps enterprises scale up their product output and performance, cut costs, improve product quality and reach more customers, thus fattening their profits.